What are youth concerned about?
We heard from youth that there were several issues they were concerned about including:
Social isolation and lack of inclusion
• Youth feel a lack of inclusion and voice in the community.
• Youth feel that adults do not think youth know what they are talking about.
• Youth feel as though adults do not understand youth's perspectives.
• Youth need to be engaged and the importance of finding creative ways to engage different kinds of youth.
• Youth are very diverse, and people cannot assume that all youth can get together and share their ideas freely, given this diversity.
• Community connection can be a form of prevention focused supports and services.
Access to services and waiting lists
• Youth feel a lack of knowledge around knowing when, where, and how to get help, as it relates to mental health and related services.
• There can be long waiting lists for health services for youth.
Stigmatization
• Stigma exists around mental health and the need for a focus on stigma reduction.
• The importance of confidentiality particularly in high school.
• Encouraging peer to peer support and increasing mental health awareness for youth are potential ways to reduce stigma.
Continuity in supports over time
• There are programming gaps in the community for transition aged youth.
• There is a need for longer term support and transition support. This includes, but is not limited to transitioning out of care, out of jail, out of mental health programs, and out of high school.
• Transitions out of intensive programs are difficult, and helping to ease that transition with supports and consistency would be helpful.
Mental health and substance abuse
• Youth tend not to understand mental health, and cannot identify the cause of their mental health challenges.
• Ignoring mental health issues or using drugs to cope were challenges for youth in improving their mental health.
• Mental health difficulties were most often caused by: stressful relationships with parents, friends, or romantic partners; and the high expectations related to school, work, and other responsibilities.
Outcomes
The Foundation supports programs or projects that move the needle on the following outcomes:
Improving mental health by:
• walking with youth and providing continuity in support and
• supporting prevention focused programs and support.
Increasing community belonging for youth by:
• incorporating youth voice and youth leadership and
• creating safe spaces and community hubs for youth.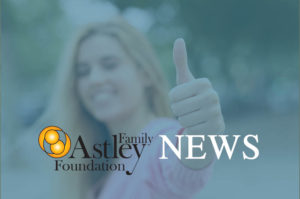 The Astley Family Foundation is now accepting applications for 2023 grants and the deadline is Friday February 17, 2023 .  We want to make it easier
Read More »