2021 Grantees
Adventure4Change
Waterloo Youth InitiativesThis program seeks to improve the mental well-being and sense of community belonging for the youth in north Waterloo facilitated by a dedicated youth-focused staff person to create a safe, consistent and positive place for youth.
Big Brothers Big Sisters Waterloo Region
Go Girls! program
Go Girls! is a group mentoring program for girls ages 12-14 that focuses on physical activity, balanced eating and self-esteem. The single, most important goal of the program is to positively shape the lives of young women and girls by helping them build a positive self-image – setting them on a path to reach their full potential in life.
Child Witness Centre
Waterloo Region Child and Youth Advocacy Centre
Supporting the Child Witness Centre as the lead agency in the implementation of the Waterloo Region Child and Youth Advocacy Centre service delivery model.
At the Waterloo Region Child and Youth Advocacy Centre (CYAC), specially-trained professionals investigate allegations of child abuse in a confidential, comforting, child/youth friendly and trauma-informed environment, and ensure children, youth and their families receive the support services they need.  Investigations can be intimidating and support for these kids has been fragmented.
Child Witness Centre
Core Programming
This grant is for the Child Witness Centre Empowering Youth to Use Their Voice and Be Heard program.  This program supports and empowers 30-50 youth to use their voice, be heard through the justice process and provides them with resources so they can heal.Big Brothers Big Sisters Waterloo Region.
Children and Youth Planning Table – Region of Waterloo
Youth Engagement Systems Lead position
This position is responsible for building capacity within the CYPT member organizations in meaningful youth engagement. Part of this role is researching and testing how to engage vulnerable youth and keep them engaged. This employee works with organizations in-house to broaden the community shared investment in youth engagement.
Community Justice Initiatives
Equip: Building Skills for Teens and Caregivers to Thrive through Conflict
The project goal is to assist teens to form positive connections with caregivers, increase their life skills, have a meaningful voice in decision-making, and the resilience to navigate stressful situations.
This program consists of teen coaching sessions, caregiver coaching session and restorative mediation focusing on creating concrete plans to support relationship health to build the capacity to manage conflict.
House of Friendship
After School Mentorship program for Vulnerable Youth
The After School Mentorship program provides high-quality programs during the critical after-school time that build skills of vulnerable youth in four at risk neighbourhoods, Chandler Mowat, Kingsdale, Courtland Shelley and Sunnydale, to help them reach their full potential.
KW Counselling
Youth Counselling
This grant supports youth through one-on-one counselling, whether in person or virtually.
Langs
Youth Wellness Hub
This grant supports the programming at the Youth Wellness Hub in Cambridge for youth 15 to 24 years old. The Hub is a youth-friendly space that provides a range of programs and services for youth focusing on mental health, employment and education.
Reception House
New Canadian Youth Connection Program
This program is to help refugee youth successfully integrate into the community and develop a sense of belonging. The initiative blends the expertise of Reception House Waterloo Region with depth of experience in the settlement sector supporting the most vulnerable newcomer, the governments assisted refugee, and Community Justice Initiatives who have adapted the Stride Circle model for reintegration of different constituents.
Sexual Assault Support Centre
Male Allies and One-on-one Counselling
The grant to the Sexual Assault Support Centre is for the Male Allies program as well as funding for one-on-one counselling.
The purpose of the Males Allies program is to encourage male youth in developing a positive self-image, experience healthy relationships and avoid destructive behaviours by interaction with trained male peer-educators and role models in the community.
Social Venture Partners Waterloo Region
SVP Teens
SVP Teens, a program of Social Venture Partners Waterloo Region, brings together some of the region's most passionate youth to identify issues in our community and work towards solving them. Every month, students from sixteen schools across our region meet virtually to hear from guest speakers, share volunteer opportunities, and create fundraisers to support their yearly SVP Teens Community Grant.
Woolwich Counselling Centre
Preventative Mental Health Youth Programs and Services at the Elmira District Secondary High School
This program provides innovative preventative counselling programs in the Elmira high school.  Elmira youth benefit by developing/learning new skills to improve mental health and overall well-being.
YMCA of Three Rivers
Creating Pathways for Newcomer Youth in Waterloo Region
Newcomer youth in Waterloo Region will receive individual and group support, building connections that will enable them to see their place and value in the community.
The YMCA will support newcomer youth to develop personal connections and relationships with peers and adult roles models through interactions that are thoughtfully designed and facilitated through a variety of group programs including: Newcomer Orientation Week (NOW), Newcomer Theatre program, Conversation Circles, and the YMCA Newcomer Youth program.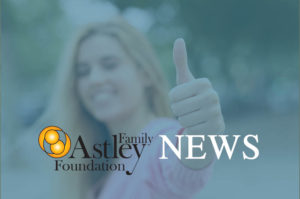 The Astley Family Foundation is now accepting applications for 2023 grants and the deadline is Friday February 17, 2023 .  We want to make it easier
Read More »