All proposals received will be acknowledged by email. As well, those proposals that clearly fall outside of our granting policy will be notified in writing by the end of February each year. The remaining proposals will all be seriously reviewed and considered. However, some proposals may be declined after a relatively short review process.
As part of the review process the Astley Family Foundation may consider it necessary to request more information from your organization, clarify information given on the proposal, and / or conduct a site visit. This further investigation does not indicate a positive funding decision nor does it guarantee that the proposal will be funded.
The Astley Family Foundation receives many worthy proposals and cannot fund all of them.
Choosing among the proposals is a difficult, although necessary, task. The final decision to fund or not fund a proposal is made by the Board of Directors of the Astley Family Foundation and will be communicated by the Executive Director before the end of April in the year the proposal was received.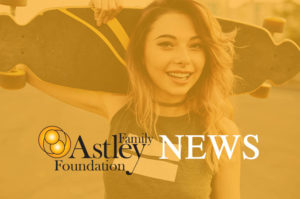 Please click here to view the PDF of the 2022 Annual Report
Read More »